Built for engineers
Goldfire is for you if you want to:
Apply lessons learned from your entire organization
Avoid rework and unnecessary repetition of tasks
Uncover new trends
Make better decisions faster
Find more relevant information and better answers to your technical questions
Goldfire uses natural language processing to read, understand, and learn from your data so it can give you a relevant answer in context, making it easier for you to find a solution that actually works. It helps engineers see why things happen.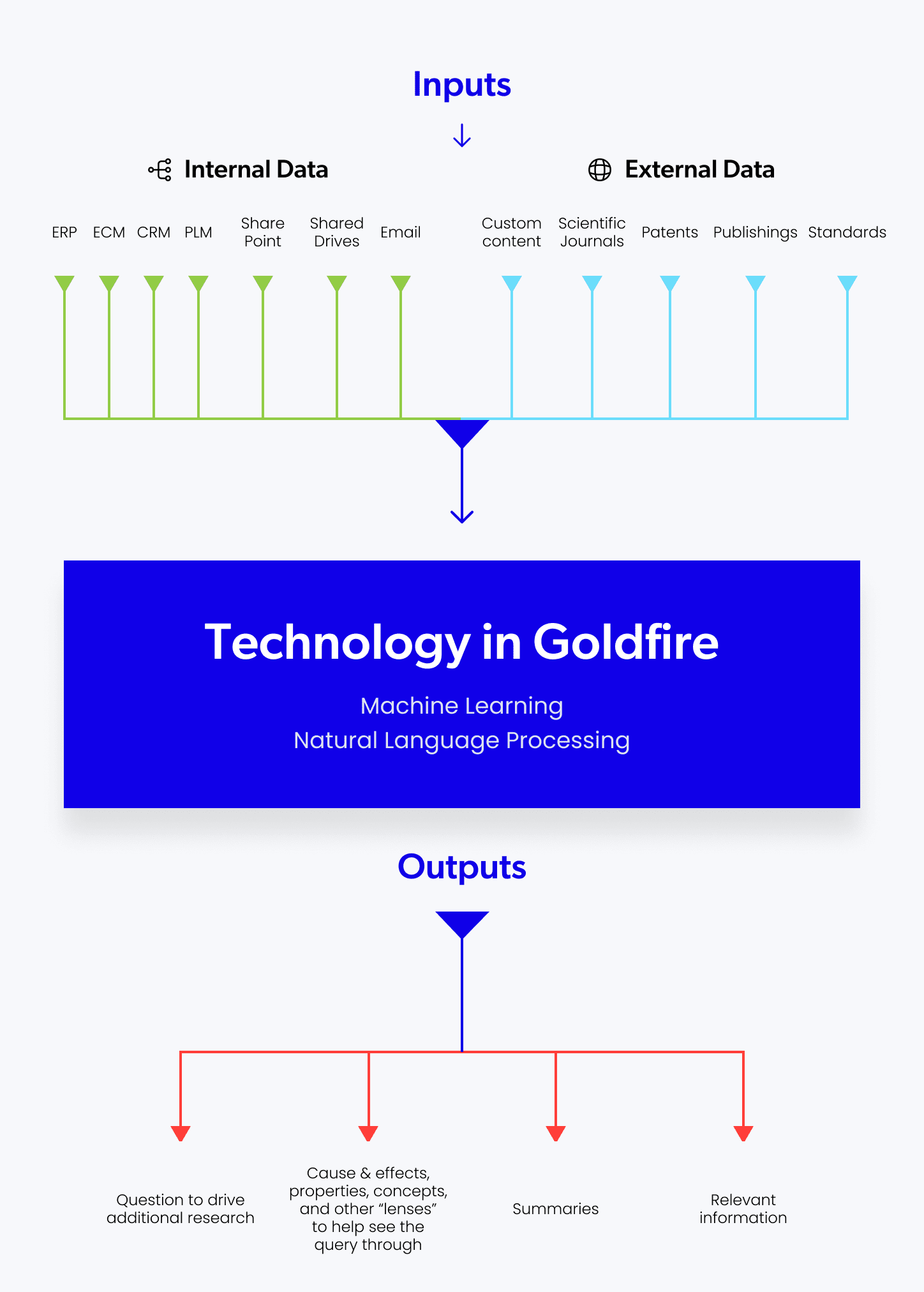 5 Steps to Answer Any Technical Question
1.
Integrate Goldfire with your data
Out of the box, Goldfire integrates with your internal and external systems so it can ingest and understand your data. Without any tagging or "teaching," Goldfire handles any type of digital information that you have, in any place that it's stored.
2.
Ask Goldfire
Use Goldfire to ask a question or search for information. That could be anything from learning about the lifespan of a smart phone battery to what the weight of an airplane wing is.
3.
Get answers
Next, Goldfire's patented technology reads your query, understands the question's full context and intent, and delivers the best fitting information – all in a matter of seconds. To do this, Goldfire asks itself a number of relevant questions behind the scenes and offers suggestions like advantages and disadvantages, additional relevant concepts, or even solutions from other industries that may work for you.
Known & Accessible
Unlike AI powered chatbots on the market today – which can fabricate answers and spread misinformation – Goldfire results deliver the actual document containing the answer you are looking for, so the source of the information is known and accessible.
4.
Sort & analyze
Goldfire summarizes each returned result so you can easily recognize what you're looking for. You can then sort the information in various ways, analyze it, and select what is most useful to your problem or question.
5.
That's it!
Once you've found your information – you're on your way! You can then download, save it for later, or share it with colleagues.
AI-powered search with improved queries that extract more relevant information from multiple diverse data sets
Built for a smarter, more sustainable tomorrow with a fully loaded feature set.
Patented research technology

Assists in knowledge discovery by finding causes and effects, definitions, parts, functions, and much more – all behind the scenes, so you don't have to.

Over 106M patents & 79M documents

Exclusive access to curated patents and contents.

World-class artificial intelligence technologies

Machine learning and natural language processing technologies that ingest, understand, organize, and query content from internal and external data sources. (No tagging or teaching necessary!)

Custom application building

Seamlessly connect, communicate, and develop with our API.

Enterprise system connections

Infuse our AI technology into your existing content applications like SharePoint, CMS, DMS, and PLM applications. We have over 20 pre-built connectors and if your system needs something additional, we'll create a custom one for you.

Goldfire enables teams to:
Boost Productivity
Avoid rework and reinvention by unlocking unstructured data to leverage lessons of the past.
Discover Insights
Get a competitive edge by uncovering trends in internal and external knowledge.
Streamline Decision Making
Make better decisions faster with research assistance and exclusive content access.

Trusted by over 6,000 global customers
Case Studies
Making air conditioning sustainable
With an ambitious goal of reducing their product's footprint by 50%, Shinwa Controls, a Japanese leader in temperature control technology, used Goldfire to not only innovate a new product, but to update and make their own internal processes more productive. Download the case study
Engineering for a sustainable future
A surprisingly tricky problem is impacting the conversion of solar energy in farms around the world. Learn how our client, a leading renewable energy corporation, leveraged our AI-powered tech to find the answer, turning to the world of plants for help. Download the case study
Energy
To provide the best experiences, we use technologies like cookies to store and/or access device information. Consenting to these technologies will allow us to process data such as browsing behavior or unique IDs on this site. Not consenting or withdrawing consent, may adversely affect certain features and functions.
Functional

Always active

The technical storage or access is strictly necessary for the legitimate purpose of enabling the use of a specific service explicitly requested by the subscriber or user, or for the sole purpose of carrying out the transmission of a communication over an electronic communications network.
Preferences

The technical storage or access is necessary for the legitimate purpose of storing preferences that are not requested by the subscriber or user.
Statistics

The technical storage or access that is used exclusively for statistical purposes.

The technical storage or access that is used exclusively for anonymous statistical purposes. Without a subpoena, voluntary compliance on the part of your Internet Service Provider, or additional records from a third party, information stored or retrieved for this purpose alone cannot usually be used to identify you.
Marketing

The technical storage or access is required to create user profiles to send advertising, or to track the user on a website or across several websites for similar marketing purposes.