CIS customers include
85%

of top Engineering Firms

95%

of top 100 UK Architect Firms

90%

of top 100 UK Consultant Firms
Built for the builders
CIS is for you if you work in:
Building Regulations
Construction standards
Eurocodes
Contract law and management
Planning law
Design guidance
Accessibility
Materials
Brownfield sites and green roofs
Biomass and energy saving
Building Regulations
Appeals and determination letters
CDM regulations
Accessibility
Planning
Health and safety and security
Building techniques
Demolition
Site investigations
Material performance
Sustainability
Vibration, loading, and stress
Material performance (e.g., concrete, steel, and timber)
Geotechnical engineering
Cost and project management
Risk assessment and management
Project and tender management
Sustainability
Highways
Construction methods
Energy use and conservation
Health and safety
Compliance and testing
Heating, ventilation and air conditioning
Waste disposal and drainage
Building management systems
Fire precautions
Gas installation
Public health engineering
Maintenance and repair
Accessibility
Party wall
Project management
Brownfield sites
Risk assessment
Planning
Asbestos
Schedules of condition and dilapidation
Sustainability
Property maintenance management
Tendering
Planning
Contracts
Design and build
Site safety
Project management
Quantity surveying
Contract law
Procurement
The most comprehensive source of industry news, updates, and critical information
CIS provides quicker, easier access to your content on PC, tablet, or smartphone through a complete solution.
Specify-it – Link to our collection of UK construction catalogs, equipment information, and CAD drawings. Search our database of 1.8 million+ product pages and 85,000+ product catalogs from manufacturers in the UK and abroad.
Eurocode Conformance – Access the widest set of Eurocodes, UK National Annexes, and Non-contradictory Complimentary Information (NCCI) material in a single service
Other publications – Enjoy direct online access to The Architects' Journal
Comprehensive coverage of healthcare building and construction information, including NBS England Health Building Notes and Health Technical Memorandum
Use the CIS Building Regulations Interest areas for England, Wales, Northern Ireland, Scotland, or the Republic of Ireland to help with compliance
Project folders to organize and manage your documents
Customized user interface – set preferences, save key searches, and store documents
Graphical layout providing improved content transparency
Accuris customer support and training – access help at every step of the way with comprehensive user assistance and training tailored to meet your company's needs
Automatic weekly content updates
Automated document change alerts to keep you up to date
NBS subscribers can benefit from the links between NBS Chorus guidance and CIS
7 Searchable Supplements
CIS content is organized into 7 fully searchable supplements based on workflows or research areas. Subscribers receive one core supplement, with the choice of an additional 6 supplements to suit project requirements.
Example Documents and Publishers:
Building Regulations
Eurocodes
National Annexes
Select NCCI material
BRE, HTM and HBN's British Standards
Specimen contract documents
Example Documents and Publishers:
BSI
BRE
CIRIA
SCI
NHBC
CIBSE
AJs
TRL
TRAD
Example Documents and Publishers:
Routledge
Design Council
Chartered Institution of Water and Environmental Management
Town and Country Planning Association
Environment Agency
Example Documents and Publishers:
BSI
BRE
CIOB
RIBA Publishing
CIC
Example Documents and Publishers:
Concrete Society
BSI
SCI
IStructE
Concrete Bridge Development Group
CIRIA
Example Documents and Publishers:
BSI
BSRIA
CIRIA
HVCA
CIBSE
Example Documents and Publishers:
With CIS, you can:
Ensure design compliance and sustainability
Innovate designs and construction methods
Support construction lifecycle from start to completion
Complete projects accurately and on time
Keep pace with new technological advances
Trusted by a global customer base
Surveyed CIS customers say:
84%

it's essential to their business

86%

CIS saves them time

87%

CIS is easy to use
If it's not on CIS, it's not worth knowing about.
Construction Professional

UK Multidisciplinary Construction firm
Our people can check products before they're ordered, whether it's a manufacturer catalogue, CAD drawings or finding a local supply chain. The level of detail of construction data that's readily available… makes this tool very valuable.
Quality Delivery Manager

Willmott Dixon
Good up to date information with an excellent search system.
Architect

from top 100 firm
Case Studies
Pascall+Watson Saves Time with Online Access to Technical Building Documents
As the biggest airport terminal designer in the United Kingdom, this premier architectural firm has enabled all its employees to easily find and view UK building standards documents online — anytime, anywhere. The staff can be confident documents are current and save time previously spent maintaining or searching for hard copies.  Download the case study
Building Design & Construction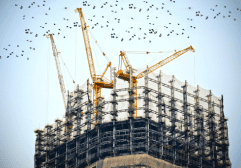 Willmott Dixon Builds in Outstanding Quality by Increasing Leverage of Construction Industry Standards
One of the UK's largest construction companies is building stellar quality into its projects by increasing its leverage of construction industry standards information – positive results range from reassuring a customer about a pipe-fitting solution to resolving a subcontractor dispute and saving £35,000.  Download the case study
Building Design & Construction
Proud to partner with:
Talk to an Expert: